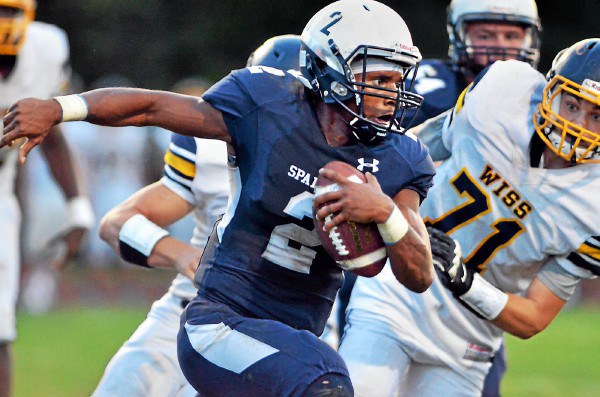 **Note: This article originally published in The Reporter and on PaPrepLive.com**
SPRINGFIELD TWP. >> In any football game where the two teams are evenly matched, taking advantage of your opportunities will win a game more often than not.
That and 332 total yards from your quarterback.
Springfield-Montco did exactly that in a wild second half to outscore Wissahickon 27-7 in the final 24 minutes and bring home a 34-20 Suburban One League American Conference win Thursday night.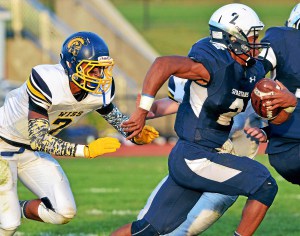 After a back-and-forth first half, Springfield (2-1, 1-0 conference) seized a little momentum in the second half after a Mike Schoenleber fumble led to a three-yard touchdown by quarterback Justin Hill to give Springfield a 14-13 lead it never relinquished.
On the ensuing kickoff the Spartans went onside and recovered, but fumbled quickly for a third time on a confused option pitch. Wissahickon's backup running back then fumbled on their next play however, after Schoenleber was unable to return with an injury after his fumble.
That's when Springfield used the biggest opportunity of the game to their advantage.
On 4th-and-5, Wissahickon (1-3, 0-1) had a too many men penalty called on it, giving Springfield an automatic first down. Hill capitalized on that one as well, scoring from one yard out to make the score 21-13 Spartans. In addition to the seven points, Springfield also burned an extra two minutes off the clock in the fourth quarter,
For the game, Hill finished with 115 yards passing, 217 yards rushing and accounted for all five Spartan touchdowns.
Hill's one passing touchdown on the night went to George Baughan, who leapt up and brought down a 27-yard TD to make the score 28-13 Springfield.
In the first half ,Wissahickon was sure to take advantage of an early opportunity after Hill fumbled on the first play from scrimmage. A recovery by Tre Holcomb allowed the Trojans to take over Springfield's 31-yard line and score four plays later on an 18-yard Mike Schoenleber run.
Schoenleber finished the first half and the game with 102 rushing yards.
Unfortunately for Springfield, fumbling the football was a common theme in the first half. The Spartans fumbled three times in the first 24 minutes, losing two.
Hill more than made up for his early fumble later in the first quarter with a 50-yard rushing touchdown along the right sideline to tie the game at seven.
The ensuing kickoff put Wissahickon right back in business, however, as Holcomb took the ball at the 10 and scampered 58 yards, setting the Trojans up at Springfield's 32. A seven-play drive resulted in a 36-yard Mason Menhardt field goal and a 10-7 Wissahickon lead early in the second quarter.
After another fumble by Springfield — this one recovered by Justin Cooper — the Schoenleber show kicked into another gear. In the final 10:43 of the first half Wissahickon ran 13 plays, 10 of which were handoffs to the junior running back. That led to another Menhardt field goal and the Trojans found themselves ahead 13-7 at halftime.
Top Photo: Springfield-Montco's Justin Hill cuts past Wissahickon defenders for a big gain during first half action of their contest at Springfield Township High School on Thursday, Sept. 24, 2015. (Mark C Psoras/The Reporter)