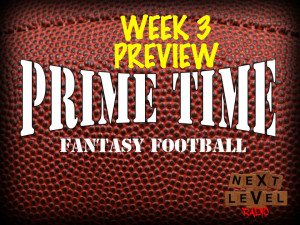 Despite by best efforts, my 1-week holdout as host of Prime Time Fantasy Football worked out about as well as Kam Chancellor's. As a result I am back and better than ever as the host of your favorite fantasy football podcast!
I'm happy to say in the week 3 preview show we once again start by answering a listener question. Although our listener may think "answer" is a subjective term.
Then, once we get into the preview portion of the show, we try something a little different on Prime Time and cover every NFL game on the docket. We talk about a few matchups longer than others, but this way we're scanning the widest fantasy landscape possible and making sure we talk about players relevant to your team.
Finally, we close as we always do with some Show Me the Money and a Fantasy Fact of the Week.
Listen Here!
Podcast: Play in new window | Download
And don't forget to tell me what you think of Prime Time Fantasy Football! Include your feedback in the comments section below and leave a rating on iTunes.
Sharing is Caring! Leave A Rating and Review
Please don't forget to leave a rating and review on iTunes! It takes a second and you can help Prime Time Fantasy Football increase our rankings with this simple gesture. Thank you for all the support!
Connect With Prime Time Fantasy Football!
Show Me The Money (Picks in bold)
Kevin (3-1 Week 2, 7-1 overal)
Chargers at Vikings (-2.5)
Bills at Miami (-2.5)
Eagles at NY JETS (-2.5)
UCLA at Zona (+3.5)
Adam (1-3 Week 2, 4-4 overall)
Pats/Jags – O/U 47.5 – Over
Colts at Titans (+3.5)
Bengals at Ravens (-2.5) – Bengals outright
Broncos at Lions (+3)
Steve (2-2 Week 2, 4-4 overall)
BYU at Michigan (-4.5)
Tennessee at Florida (-1.5)
Boise State at Virginia (+3.5)
Virginia Tech at East Carolina (+8)