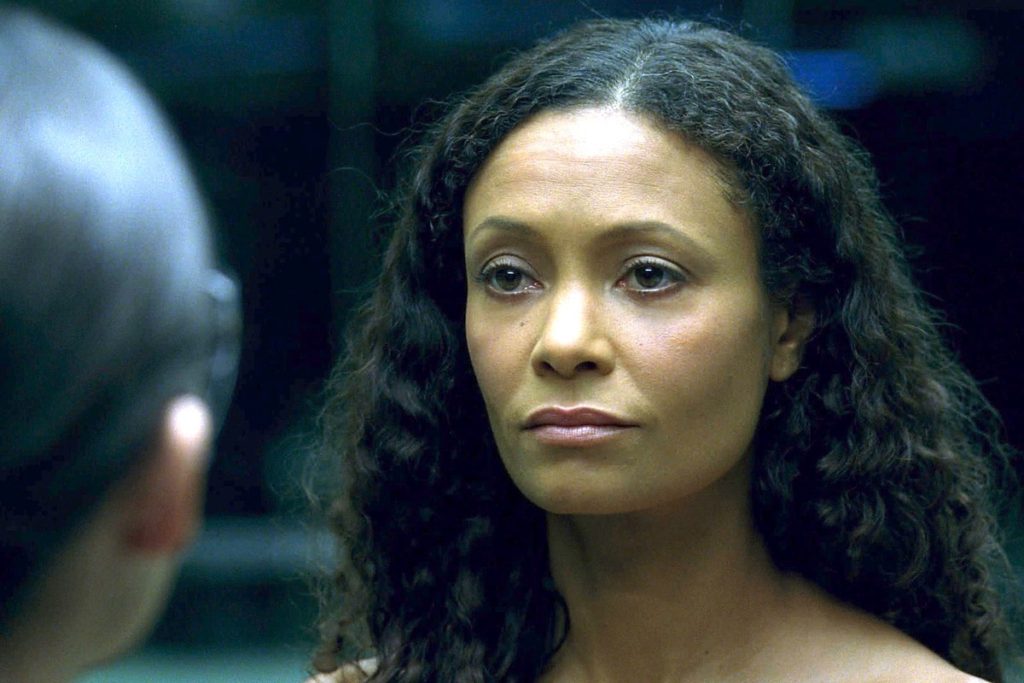 Note: This article originally published on PureFandom.com
"These violent delights have violent ends"
In episode 2 of Westworld, which asks both Dolores and us to "remember", this phrase is the single most important thing to remember.
Of course breaking down that sentence to its literal meaning is obvious. Westworld is an amusement park with an emphasis on amusement. Guests are welcomed and encouraged to use the hosts in any way they'd like. No matter how violating or violent. Those are the delights, and the violent ends seem to be inevitable as we move forward.
But entertain me for a second. A big part of what makes Westworld intriguing is the complexity and mystery of its artificial world. Although we're blurring the lines between AI and human, never forget all these hosts are glorified computers. So I ask you this:
What does "these violent delights have violent ends" mean to our hosts?
While we tend to think rationally and logically as humans, their brains are a bunch of 1s and 0s. Does this phrase, when placed within that code, cause some type of virus? One that triggers a semblance of memory and feeling even Ford wouldn't want them to have?
Dolores is the first person, that we know of, to be fed the phrase. Now Bernard is going on secret interview missions with her, telling her not to mention what they've been talking about to anyone else and having her erase conversations when she asks if he's done something wrong. There is indeed something different about Dolores, Bernard. And you may have caused it. (PICTURE PLANTING CONSPIRACY THEORY!)
Bernard is my leader in the clubhouse for the person telling Dolores to remember, by the way. The confused way she asks "You?" when she looks up and sees whoever she sees tells me it's someone who isn't supposed to be there.
Our next host who has caught this possible disease is Maeve (Thandie Newton), and her trigger comes from Dolores herself. That sends the pimping bar maid into a spiral of modifications that culminates in a MRSA removal gone terribly wrong. Maeve is slowly remembering a nightmare, which isn't supposed to happen, until she wakes up while the maintenance guys work on her, which also isn't supposed to happen, escapes and witnesses a scene she'll never be able to forget, which she's not supposed to be able to do.
After all, "If she's got any dreams, it's what the sloppy fucks in maintenance have done putting her back together again," as one of Westworld's modifiers said. That's quite a dream to have.
[Cut To Black]
Now let's talk about something that could become much bigger as Westworld progresses. First of all, if violent delights do indeed have violent ends, how violent is The Man In Black's end going to be? By my unofficial count, he killed 22 hosts in episode 2.
It's easy to intertwine his story with the two work "friends" who made a trip to Westworld. The "black hat vs white hat" symbolism comparison has been around for decades, and this episode makes it obvious. What makes it fitting is, rather than giving him a name, Ed Harris' character is simply known as The Man In Black. This suggests he's way past the black hat, and is more evil at his core than just someone who wears an article of clothing that can be easily removed.
I find his antics pretty cowardly, by the way. Way to go dude, you can kill a bunch of people who can't hurt you to get what you want. That's why, originally, I figured in the real world he's just some doormat who get's bullied by his boss at work too much.
But we're getting some hints he's way more important than that. In the scene with Lawrence, who he saved from hanging but only for his own benefit, The Man In Black mentions he was basically born in Westworld. Then, while he's on his rampage, one of the park monitors tell us "that gentleman gets whatever he wants." And the killing concludes with The Man In Black telling Lawrence "when you're suffering, that's when you most feel", as he shoot's Lawrence's wife.
This guy is scorned by Westworld or the people who have created it in some way. Scorned by someone like Ford, who has created this entire world and treated the hosts as if they were his children. Possibly more so than his own children. I think our widdle-ole Man In Black may be having some daddy issues. Honestly, I'm not sure the age gap is wide enough between Ford and The Man In Black. And there's a pretty good chance I'm WAY off here. But you see what a bored mind can conjure?
[Pan to the sky, wondering what the hell is going to happen next]
Westworld airs Sundays at 9pmEST on HBO.
Follow more TV news on PureFandom!
Image credit: HBO