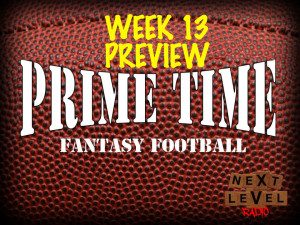 The number 13 gets a bad rap. Just ask every hotel ever in the country ever. While 13 can be a favorite number of a lot of people, or a terrible excuse of a nickname for Paul George, most people associate the first number in the teens as unlucky.
But in fantasy football you need Week 13 to be anything but unlucky – you're either fighting for playoff positioning or in a first-round matchup. That why Prime Time Fantasy Football has become more vital than ever, so listen up!
This week Adam and I will discuss all 16 games going on in the NFL, all for you. Topics will include how to deal with the Cardinals' injuries, what to do with the Broncos' running backs, and where to go with T.Y. Hilton.
We also get to listener questions, which include some FLEX advice and roster advice heading into an important matchup.
Last week was all about the turkeys. This week the only turkeys are Adam and myself, so we're back to Show Me The Money and the Fantasy Fact of the Week. We close the show with that.
Listen Here!
Podcast: Play in new window | Download
And don't forget to tell me what you think of Prime Time Fantasy Football! Include your feedback in the comments section below and leave a rating on iTunes.
Sharing is Caring! Leave A Rating and Review
Please don't forget to leave a rating and review on iTunes! It takes a second and you can help Prime Time Fantasy Football increase our rankings with this simple gesture. Thank you for all the support!
Connect With Prime Time Fantasy Football!
Show Me The Money (Picks in bold)
Steve
Florida (+17.5) vs Alabama
USC (+4) vs Stanford
Michigan State (-3.5) vs Iowa
North Carolina vs Clemson (-4.5)
Adam
49ers @ Bears (-7)
Bengals (-9.5) @ Browns
Jets (-2.5) @ Giants
Broncos @ Chargers (+4)