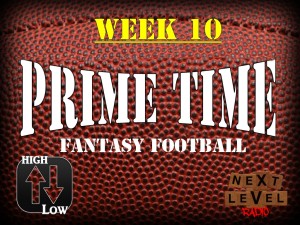 Happy Week 10. Here's hoping you survived all those Week 9 byes to your NFC North players. If you didn't, you may very well have resorted to throwing your computer across the room. Or getting drunk. Or both.
Speaking of getting a shine on…
During episode number 21 of Prime Time Fantasy Football, we can finally drink! Smash Bombs all around!** But also Adam Gori, Joe Webster and I all talk about everything fantasy-relevant heading into Week 10.
**Editor's Note** – Here's what a Smash Bomb is (he calls it a Lad Bomb), if you didn't know (because why would you). Now never do one ever in your life.
It's High/Low the people want, so it's High/Low we continue to lead the show with. Last week we hit on a lot of predictions, further proving you should listen to us all the time. We'll also discuss this week, and where we think guys like Carson Palmer, Devonta Adams and Odell Beckham fall as bye week replacements.
We also continued with our weekly "Zero to Hero" and "Don't Buy the Hype" segments. See which wide receivers, quarterbacks, and even tight ends (!) will have a bounce back week and which will take a step back in Week 10.
That was followed by three quick segments to close the show. With six teams on by this week, we felt it only right to give you some waiver wire pickups to consider. We also played some "Take Your Pick," pitting Jamaal Charles and Matthew Stafford against the defenses they're playing this week. Finally, "Dig It or Ditch It" included Josh McCown and Mark Sanchez, Mark Ingram and Jeremy Hill, and the ever-present Adrian Peterson situation.
Listen Here!
And don't forget to tell me what you think of Prime Time Fantasy Football! Include your feedback in the comments section below and leave a rating on iTunes.
Sharing is Caring! Leave A Rating and Review
Please don't forget to leave a rating and review on iTunes! It takes a second and you can help Prime Time Fantasy Football increase our rankings with this simple gesture. Thank you for all the support! See you soon.
Tweet About This Episode!
Click To Tweet –> Catch the #PTFF Week 10 preview from @NextLevelRadio w/ @AdamNXTLevel, @srichards31 and @joeyweb32!
Connect With Prime Time Fantasy Football!