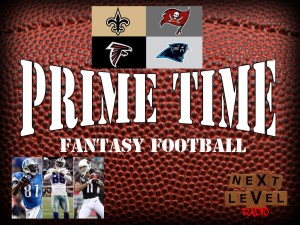 With the AFC Spotlights wrapped up, it's only natural that we hop back over to the NFC and talk fantasy football. Next up we head to SEC country to chat about pro football and the NFC South.
During episode eight of Prime Time Fantasy Football, Adam Gori, our new buddy Joe Webster and I all talk about the fantasy impact of players from the NFC South. We'll cover every player you should know about from the New Orleans Saints, Atlanta Falcons, Carolina Panthers and Tampa Bay Buccaneers.
We also spent most of the show talking about week 1 of preseason. While we are all firmly in the camp that says "don't overreact, it's week 1 of preseason," there are still some news stories that emerged. We'll discuss Devonta Freeman, Andre Ellington, Bishop Sankey and other non-running back headlines that stood out to us.
While the South rarely has repeat division winners, they do have some repeat fantasy winners you can count on like Drew Brees, Cam Newton and that Falcon receiving tandem. That doesn't mean there aren't plenty of guys flying under the radar in the division. Adam, Joe and I will discuss those guys, giving you the best chance to win your league late in the draft. We'll also do some "Over/Under" again, letting you know how guys stack up against their 2013 totals.
Finally, we continue our positional rankings with the wide receiver position. There is some parody to the position this year, but don't miss out on those fantasy studs you can land early. Joe will also bring us a report about the highly-touted rookie class, letting you know which wideouts will make a fantasy impact and which we should slow the hype machine on.
Listen Here!
And don't forget to tell me what you think of Prime Time Fantasy Football! Include your feedback in the comments section below.
Tweet About This Episode!
Click To Tweet –> Check out the NFC South Spotlight from @NXTLevelRadio, with hosts @AdamNextLevel, @joeyweb32 and @srichards31!
Connect With Prime Time Fantasy Football!
Sharing is Caring! Leave A Rating and Review
Please don't forget to leave a rating and review on iTunes! It takes a second and you can help Prime Time Fantasy Football increase our rankings with this simple gesture. Thank you for all the support! See you soon.