On a recent episode of the podcast I co-cost, Prime Time Fantasy Football, my partner Adam Gori and I did some quarterback rankings.
While quarterback may be the position you rely on to score the most points for your fantasy team on a weekly basis, you may not have to draft a quarterback right off the top. The class is deep this year, and that's a good thing for you.
As long as you play it right.
To make sure you do that, I've even put the boys into categories so you know what you're getting when you pick your QBs.
Let's get into some quarterback rankings.
Steve Richards' Whatever-their-worth 2014 Fantasy Quarterback Rankings
**Note** You can find Adam's quarterback rankings (and mine in a short-winded version) right here. Also, ADP mean average draft position, aka where these guys are going in most drafts so far.
The Stud Muffins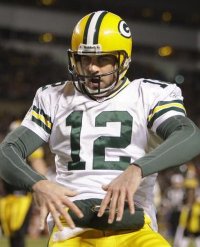 Here are the guys you're taking if you want to go big on the quarterback position. You know what you're going to get from them, and it's gonna be good. All three of them are also very charming, hence why they're stud muffins and not just studs.
1. Peyton Manning (ADP – 11th on Yahoo, 5th on ESPN)
The number 1 guy on most everyone's list. Scored over 400 fantasy points last year and has a chance to do the same again.
2. Aaron Rodgers (ADP – 20th on Yahoo, 10th on ESPN)
Coming off a collarbone injury that should have no ill-effects on this season at all. Plenty of weapons to throw to and plenty of arm strength to do it. Also a great Twitter follow if you like to root for your fantasy players in real life too.
3. Drew Brees (ADP – 17th on Yahoo, 13th on ESPN)
The guy has averaged over 5,200 yards and 42 TDs for the last 3 years. Case open, case closed.
Quality Starters
There's a bit more inconsistency and risk here than with the first tier, but all in all you can take any one of these guys and feel confident about having a team that hoists the trophy at the end of the year.
4. Cam Newton (ADP – 51 on Yahoo, 37 on ESPN)
The knock on Cam Cam will be that he doesn't have any weapons. But he scored the 5th most points among QBs last year and he only had one, aging weapon. Newton will take matters into his own hands on offense this year, and that's good for you.
5. Andrew Luck (ADP – 54 on Yahoo, 40 on ESPN)
Talk about a lack of weapons. After Reggie Wayne went down last year, Luck made T.Y. Hilton a star. Wayne is back and looking good, and Luck will continue to make the people around him better. That makes him better as a fantasy quarterback.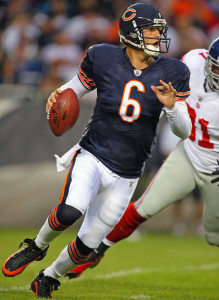 6. Matthew Stafford (ADP – 48 on Yahoo, 36 on ESPN)
Obviously the early drafts are showing people are higher on Stafford than I am. Hard to argue when he's throwing it to Calvin Johnson. Detroit also added Golden Tate this year, who's known for catching all the Hail Marys! (he's also a solid receiver). Stafford will throw it a ton like he always does and have plenty of opportunity to put up points.
7. Jay Cutler (ADP – 100 on Yahoo, 112 on ESPN)
Cutler is my dude. Weapons make a quarterback look good, and Mr. Cavallari has Brandon Marshall, Alshon Jeffery, Matt Forte and Martellus Bennet at his disposal. He's also a good player all on his own. Cutler is in for a big year, and going by his ADP you can get him in between rounds eight and eleven. Value pick!
8. Nick Foles (ADP – 65 on Yahoo, 57 on ESPN)
Another year under Chip Kelly's system. More weapons added on the receiving end with Darren Sproles in free agency and Jordan Matthews through the draft. Better than 60 offensive plays per game. All of this adds up to a lot of production for the Eagles' signal caller.
Complement Quarterbacks
These guys will do exactly what my heading for them suggests – complement a good fantasy team. The good part about these guys is you can probably get them later, meaning you have plenty of picks to bolster the rest of your roster and make these guys a solid addition.
9. Matt Ryan (ADP – 56 on Yahoo, 89 on ESPN)
Much like Cutler, Ryan has some great weapons to work with in Roddy White and Julio Jones. He just doesn't have as many and to me they aren't as good. Hence a few slots lower than Jay.
10. Tom Brady (ADP – 79 on Yahoo, 65 on ESPN)
After having the worst statistical year of his career in 2013, The Golden Boy could use a polish. Brady will still be Brady, however, and it never hurts to have him as your fantasy quarterback. Especially if he can bounce back in 2014.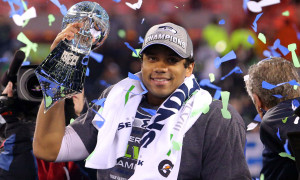 11. Russell Wilson (ADP – 97 on Yahoo, 70 on ESPN)
Even after winning the Super Bowl last year, Wilson still gets a bit of the Rodney Dangerfield treatment when it comes to most fantasy quarterback rankings. Still, he finished in the top 10 among QBs in total points last year, and should be right around there again this year.
12. Robert Griffin III (ADP – 60 on Yahoo, 54 on ESPN)
I'm not nearly as high on Bob Griffin as others – he's going as the 8th QB in Yahoo drafts and the 7th in ESPN drafts. Still, this is a "show me" year for Griffin as far as I'm concerned. I'm on the bubble in making him a starting-caliber fantasy QB.
QB2s That Probably Could Be QB1s
This is what makes the 2014 quarterback class so great – I could say the same thing for this tier as I did for the last tier, except you can scoop some of these guys up as your second quarterback. Never hurts to have two starters on one team for trade bait or injury insurance policies.
13. Philip Rivers (ADP – 102 on Yahoo, 107 on ESPN)
Philip and I have a love/hate relationship, he just doesn't know it. He sunk a keeper league of mine for two straight years, only to score the fourth-most fantasy points last year when I didn't have him. He's still a lot of fun to root for and I might take him in front of Griffin if given the chance.
14. Colin Kaepernick (ADP – 99 on Yahoo, 60 on ESPN)
To me Kaepernick gets more hype than Russell Wilson but isn't as good in fantasy or real-life football. Hence the reason I have him three spots lower than Wilson. Still nice to have a QB that can get you points with his feet when the pocket collapses.
15. Andy Dalton (ADP – 123 on Yahoo, 124 on ESPN)
Another guy that really doesn't get the respect he deserves, Dalton scored the third-most fantasy points among quarterbacks last year.** You read that last sentence right. I guess that means I'm not giving him the respect he deserves either. I told you the quarterback class was deep guys.
**Side Note – Apparently the Bengals front office plays fantasy football.
Bye Week Fillers
These guys are nice complements, but only if you grabbed a QB in one of the first two tiers. And only for that guy's bye week. You're counting on your QB1 to take you through the season if these guys are your QB2s.
16. Tony Romo (ADP – 80 on Yahoo, 102 on ESPN)
Overrated, just like everything else regarding the football team in Dallas (insert Philly bias joke here). Really though, the back injury is not a small issue. There's no way he should be going before the likes of Cutler, Rivers and Dalton.
17. Ben Roethlisberger (ADP – 119 on Yahoo, 126 on ESPN)
For me the best of Big Ben is behind him. He only has one true weapon in Antonio Brown, and the league will be better prepared to stop it this year.
18. Ryan Tannehill (ADP – 133 on Yahoo, 137 on ESPN)
Getting better, but not ready to stand out as a fantasy quarterback just yet. Doesn't help that his receivers are Mike Wallace and Brian Hartline, either.
19. Alex Smith (ADP – 126 on Yahoo, 124 on ESPN)
More of a game manager than a game changer in Andy Reid's offense. He'll score consistently, but not big points consistently.
20. Carson Palmer (ADP – 134 on Yahoo, 139 on ESPN)
Really good weapons around him, but really unreliable as far as turnovers go (24 TDs, 22 INTs last year). He'll be better this year, but not good enough to warrant a lot of fantasy relevance.
The Dancing Monkeys
At this point you're scraping the bottom of the barrel (see what I did there with the barrel and the monkeys!? No wonder you're still reading)
Unfortunately these guys also won't get much freedom to do anything but what they're assigned, and a lot of that will be handing the ball off or throwing it short. Avoid drafting from this list if possible.
Except for maybe one guy…
21. Eli Manning (ADP – 131 on Yahoo, 123 on ESPN)
…and this is NOT that guy. A new offense for Eli means a lot of running and short passes. He may have a high completion percentage, but that doesn't mean a high fantasy points total. HE THREW 27 INTERCEPTIONS LAST YEAR.
22. Johnny Manziel (ADP – 126 on Yahoo, 117 on ESPN)
Here's the guy you may want to keep an eye on. We don't know if he's going to start yet, but he probably will. And he'll also probably make an impact. Johnny Football has quite a chance to prove me wrong, but I'm holding off on the hype machine right now.
 23. Josh McCown (ADP – 136 on Yahoo, 138 on ESPN)
He was good with the Bears last year, so now he gets his shot in Tampa. Good weapons, but nowhere near what the Bears have. He's got some proving to do.
24. Joe Flacco (ADP – 126 on Yahoo, 130 on ESPN)
Flacco is a game manager. The problem is he's not all that good at it, throwing 22 picks to just 19 TDs last year. He'll be better than that, but not much.
25. Sam Bradford (ADP – 126 on Yahoo, Undrafted on ESPN)
The former number 1 overall pick rounds out my top 25. Bradford played only seven games last year, and wasn't particularly good when he played. But let's not forget Bradford signed a $50 million contract the second he was taken number 1, so I'm sure he's living just fine even with being at the bottom of this list.
What To Take From The Quarterback Rankings
So what do all these quarterback rankings mean? When you have a chance to win a fantasy championship with any one of 15 quarterbacks, that's definitely a good thing. The way I see it there's no reason to reach on the position this year – build up the rest of that roster and let your quarterback be the last piece to fantasy perfection.
Unless you like stud muffins of course.
Agree with my quarterback rankings? Disagree? Leave a comment and we'll hash it out.