Welcome to my first post of many in my attempt to become a successful sports journalist, whatever that looks like. So considering this is my first shot, let's talk about something everyone will love, something everyone can get into and relate to.
Let's talk about Soccer!
Do not fear, all of America. I'll make this relatable to the mainstream, I promise. As the World Cup kick off coincides with Game 4 of the NBA Finals tonight, I bring you a comparison of the two.
The Flashy Pick To Win It All
For all of these sections I'll start with soccer, since that's what you want to hear about the most. The sports synonyms for "flashy" in sports are "sexy," "fun" and "exciting." Essentially the team all the cool kids are going to pick. So what team falls under that category?
World Cup Pick: Argentina
This South American squad is LOADED with talent, and it all starts up front. With a big 3 of Sergio Agüero, Gonzalo Higuaín and the best player in the world (yeah I said it) Lionel Messi, these boys will overpower you and score on you at will.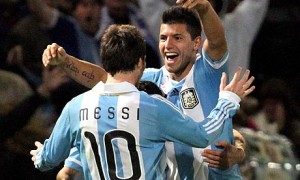 Messi is a once-in-two-lifetimes type of player. "He can lose you in a phone booth" isn't my favorite cliche, but if anyone can do it it's this guy. And then he'll score a goal afterward. Messi alone makes it worth watching this tournament, I promise. Aguero may not be the number one guy on this squad, but he's known what it's like to be number one at Manchester City as the main striker. Higuaín is a bit of the unsung hero for The White and Sky Blue, but with 21 goals in just 36 Caps, he can step up when needed.
EDITOR'S NOTE (wait I'm the editor too): I realize there's accents to be added on Agüero and Higuaín. That's probably going to happen elsewhere in the soccer portion of this post as well. I don't know how to add them. Feel free to tell me how in the comments. I'll even give you credit!
UPDATE: I've done it! Big thanks to my Prime Time Fantasy Football podcast partner Adam Gori
NBA Pick: The Miami Heat
So there's only two teams left to choose from that can win it all in the NBA this year, making the flashy pick quite easy. But you could have given me 30 picks and the Heat still would have been at the top of the list.
You wanna talk big 3? The triad of Dwyane Wade, Chris Bosh and the best player in the world (saying that more comfortably) LeBron James. Bron Bron is your takeover guy, we all know that. Wade is no longer number one, but knows what it's like thanks to his all-time performance in the '06 finals. Bosh is gonna do Bosh things, whether you like them or not. That makes him the man who will step up when you need it. Bottom line, much like Argentina, you can put money on these guys bringing home a trophy and feel confident about it while having fun rooting for them.
The Boring Pick To Win It All
In this category you may not have as much fun rooting for the team to win, but your odds of coming out on top are just as good, if not better. These teams win a bunch, sure. But when push comes to shove you go with these teams because they're always there.
World Cup Pick: Brazil
Now I know what my soccer-loving readers are thinking. Brazil? Boring?  But these aren't your daddy's Little Canaries!
That's their nickname. I swear.
Regardless, Brazil invented "the beautiful game." Under the coaching of Luis Felipe Scolari, however, some of the flash and flare has been replaced by boring old victories, showcased by a Confederations Cup trophy just last year. The argument seems odd considering Brazil hasn't lost in their home country in 12 years, but many in the host country wonder if their beloved squad can win the big one this way.
But you have to respect the consistency of Brazil. They have won five world cups, and finished second another two times. They also have a fantastic chance this year thanks to the young talent of Neymar (22) mixed with the wise old veterans of Fred (because 30 is old in soccer) and goalkeeper Júlio César (80 Caps).
NBA Pick: The San Antonio Spurs
Well there was no other choice. But again, if you give me 30 choices I'm still picking the Spurs. Because talk about boring – somehow this team wins 60 games every damn year and no one ever notices. But talk about respect – somehow this team wins 60 games every damn year.
In addition to the regular season, the Spurs have just a bit of success when it comes to trophies as well. San Antonio has won four championships in all, and finished runners-up last season. A lot of this success comes from their mix of young talent of breakout star Kawhi Leonard (23) mixed with the Big and Old 3 of Tim Duncan (38), Tony Parker (because 32 is old in basketball) and Manu Ginóbili (36).
EDITOR'S NOTE: Welp, turns out I need an accent for the basketball portion of this article as well. Someone support me please.
Wait, Im An American! Where Does The United States Fall?
Ah, yes. Let's get some good old fashioned home town bias up in here. The United States are in quite the pickle heading into the World Cup folks. They're a very good, in fact much better than most cup years. Coach Jurgen Klinsmann even left all-time leading goal scorer and American staple Landon Donovan off the squad because he felt their future is brighter without him.
However, The Yanks currently sit in the dreaded Group of Death, meaning they have the hardest time advancing to the round of 16 on paper. That can always be proven wrong, but with Cristiano Ronaldo-led Portugal (why I was skeptical about calling Messi the best in the world) and Bastian Schweinsteiger-led Germany (I just like saying his name) lying in wait – it's gonna be tough to the Americans to get more than 3 games in Brazil.
NBA Comparison: The Phoenix Suns
You've lasted 1,000 words. Stick with me here. The Western Conference in the NBA is clearly the Group of Death, compared to the Eastern Conference, which is the Group of Tank. The Suns have also recently-ish let a franchise staple in Steve Nash go, and it has undoubtably made them a better team thanks to the emergence of Goran Dragic. The Suns are trending up, there is no doubt about it.
The issue is in the "Group of Death" Western Conference. While Phoenix ended on the outside looking for the NBA's round of 16 despite a 48-34 record, the Atlanta Hawks represented the 8-seed in the East with a record of 38-44.
So there you have it. Enjoy the World Cup, enjoy The Finals, hell even enjoy the U.S. Open this weekend. And Welcome to the best sports day in a while, whether you like soccer or not