Note: I was originally going to make this one post about Prejudice in Sports, but for better or worse I have plenty to say here. So I've decided to make this a three post series. This is part three. Part one is right here, and part two can be found here.
While there are plenty of sports-related things I could lead with discussing the issue of prejudice against homosexuality I'll start with this: did you know the word for bias against same-sex relationships is heterosexism? I would consider myself a fairly educated guy, but I certainly had no idea. While racism and sexism are commonly-used and commonly-discussed terms today, for me the fact I wasn't even aware of the phrase heterosexism until I did my research for this article showcases the ignorance I have and, more importantly, the ignorance our society has for this issue.
Needless to say sports is not the exception to this rule. And I'm not talking about an athlete calling something or someone he thinks isn't cool gay (although that's obviously an issue as well) – I'm talking about heterosexism that legitimately effects people's lives and careers.
Heterosexism Against Michael Sam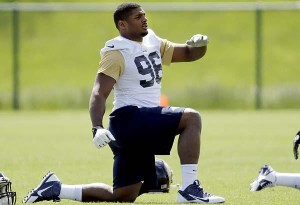 The man in the spotlight, for lack of a better term, when it comes to heterosexism in sports is recently-drafted linebacker Michael Sam. Sam, the co-SEC Defensive Player of The Year, came out with pride in February. However, the NFL and their GMs did not show as much pride in adding Sam to their roster as he did in coming out.
Remember when I said the Missouri product won co-SEC Defensive Player of The Year? Here's how his award-winning peers have been drafted since 2004:
2004 – David Pollack (Georgia) – Drafted 17th Overall
2005 – DeMeco Ryans (Alabama) – Drafted 33rd Overall
2006 – Patrick Willis (Ole Miss) – Drafted 11th Overall
2007 – Glenn Dorsey (LSU) – Drafted 5th Overall
2008 – Eric Berry (Tennessee) – Drafted 5th Overall
2009 – Rolando McClain (Alabama) – Drafted 8th Overall
2010 – Patrick Peterson (LSU) – Drafted 5th Overall
2011 – Morris Claiborne (LSU) – Drafted 6th Overall
2012 – Jarvis Jones (Georgia) – Drafted 17th Overall
2013 – CJ Mosley (Alabama) – Drafted 17th Overall
2013 – Michael Sam (Missouri) – Drafted 249th Overall
Notice any contrasts in those numbers in bold above? Over the last 10 years and 11 winners, two were drafted outside the first round. One is DeMeco Ryans, who was taken with the very first pick of the second round. The other is Michael Sam, who missed the first round by 217 picks. In fact, in the history of the SEC Defensive Player of The Year Award, only two players have ever been taken outside the second round.
Now I'm a realist and an optimist. And Michael Sam is what you would call a "tweener" linebacker, meaning he's an oversized linebacker and an undersized defensive end. I really did want to believe scouts just did their due diligence, took into account a poor NFL Combine, and thought he wasn't worth a pick earlier than the 7th round. Then I saw this from the NFL's moral guide, Tony Dungy:
"I wouldn't have taken him," Dungy said. "Not because I don't believe Michael Sam should have a chance to play, but I wouldn't want to deal with all of it. It's not going to be totally smooth. … Things will happen."
Here's a guy who backed Michael Vick, someone who had just come out of prison, and thought a team should take a shot on him. How's that for a distraction?
Plus, as I mentioned, Dungy is a known humanitarian for the NFL and a mentor for many young players in the league. And a good one – don't get me wrong there. But the fact even he wouldn't give Sam a shot tells you a lot about what you need to know about NFL culture right now.
Standing Against Heterosexism In Sports
As discouraging as the news attached to the Michael Sam story is, there is of course plenty of positive to Sam blazing this trail for the NFL. And fortunately he isn't the only one making waves in sports.
The first example of this happened in 2007, when former NBA player John Amaechi came out in his book, Man in the Middle. While it is obviously a great progression for society whenever anyone involved in sports comes out, the best part of Amaechi being the first is the man is a role model for anyone, gay or straight.
Amaechi is a member of the American Psychological Association, the British Psychological Society (BPS), the BPS Division of Organisational Psychology and the BPS Psychological Testing Centre. He also became a Senior Fellow at the centre for Emotional Literacy and Personal Development at the University of Central Lancashire (UCLAN) in the United Kingdom. In other words, he's very smart and is the perfect person to lead a movement that requires people with strong character standing behind it. It's people like Amaechi who leave a legacy much bigger than themselves and make it easier for people like Jason Collins to come out while still playing professional sports. That's what it's going to take to stand against heterosexism in sports.
Brittney Griner and Letting People Be Who They Are
Piggybacking off the past courage in the NBA, one of the WNBA's most recognizable figures, Brittney Griner has also recently come out. Her stance is admirable because of how big of a deal she thinks it isn't. ""It really wasn't too difficult," she said of her coming out. "I wouldn't say I was hiding or anything like that. I've always been open about who I am and my sexuality. So, it wasn't hard at all. If I can show that I'm out and I'm fine and everything's OK, then hopefully the younger generation will definitely feel the same way."
Bingo. NOT making this a big deal is exactly how to make people comfortable in being who they are, in sports or otherwise. Unfortunately, that's not where we are as a society just yet.
That's never more evident than in the story of Derrick Gordon. A point guard for UMass, Gordon's coming out became an escapade between various news outlets and organizations, essentially fighting over who gets to hang their hat on breaking the news. In contrast to Griner's beliefs, this is exactly what will continue to make athletes coming out a circus and a controversy, rather than just another piece of news that gets the right amount of coverage.
So Where Do We Go From Here?
As evidenced above, heterosexism in sports is one of the touchiest subjects we have today. It has led to possible discrimination against players not only in the locker room but by the front office higher-ups as well.
However, I do believe we're on the right track. With more people like Sam and Griner coming out while still playing, the appearance of a gay player in the locker room will normalize and it will be a regularity rather than an aberration. That's how heterosexism in sports will deteriorate.